Meet Our Farmers
SPIISRY brings you quality spices and products from responsible farmers straight to your doorstep.  These farmers are handpicked by our team at ICAR-IISR. They are well known in their field for the use of natural, scientific and traditional farming methods and their efforts to conserve and promote these practices and crops. Spiisry is more than just about bringing natural products to its customers – it's about our health and future, and also about meeting the real heroes- the farmers who bring it to us. We also understand the importance of teaching these great values and traditions to our future generations so that they too can enjoy a great life.
Learn more about some of the farmers who are bringing you these amazing products.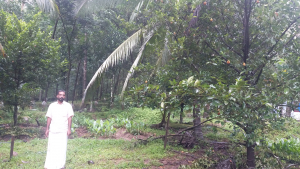 Mathew Kozhuvanal
Mr. Mathew Kozhuvanal is a second generation settler from Travancore is one of the new farmers who ventured into clove farming in the eastern high lands of Kozhikode district. Mr. Mathew has put his heart and soul in to spices cultivation. Farming with a strong and clear focus in crop diversification, Mr. Mathew grows clove in a nine acre plot as intercrop of black pepper and coconut. About 750 clove plants of varying ages are there amidst black pepper and coconut in this estate. About 750 vines of different pepper varieties like Karimunda, Panniyur 1, Narayakodi, Chumala etc. are grown in his farm along with clove. Mr. Mathew is also engaged in cultivation of IISR Varada, a low fibre high quality ginger variety of IISR.